Satisfaction Policy
It is the policy of Lee Stofer Music, Inc., to have completely satisfied customers.  If you purchase and receive an instrument, new or used, or any accessory, and are not completely satisfied with it, please return it in substantially undamaged condition, and I will issue you a full refund, minus the actual cost of shipping.
Stofer-Geib mouthpieces
Like most players, I have searched throughout my career for "tools of the trade" that help me achieve the best tone, articulation, and intonation available. My mouthpieces are turned in Jim Kelly's precision machine shop in Fond Du Lac, Wisconsin, and differ from the original Conn-Geib mouthpieces only in that the shanks are marked as A (American standard size) or E (European size, slightly larger), and that the mouthpieces have a slight bevel back-cut at the end of the shank to enhance airflow and response.
The Stofer-Geib mouthpiece is a classic design, inspired by Fred Geib, who was a student of Auguste Helleberg, a mouthpiece designer, and principal tubist in the New York Philharmonic and at Radio City Music Hall. The Geib model mouthpiece has a relatively thin rim at 7mm, a 33mm cup opening, and a cup depth of 34mm. This design, with a narrow rim, moderately large cup opening, and a moderately deep bowl-shape, has a sound quality and control that I've not found in any other mouthpiece. The rim is well-rounded, but there is enough inner "bite" to make attacks clean and secure.  I find that I can play with a more relaxed embouchure, warm-up quicker and have better pitch accuracy, as well as getting that deep core sound I've always been striving for. I have had more than one top orchestral player say that this mouthpiece has a unique sound, possessing a fundamental bass tone quality that others do not. A number of players have reported that this mouthpiece gives them better flexibility than ever, and enables them to play better in-tune than ever.  This mouthpiece is now used by players of all levels, from high school students to a significant number of top orchestral musicians.  Play the mouthpiece that can help you go to the next level!
Original Stofer-Geib Mouthpiece – with zippered carrying pouch – Silver-plated: $225.00  Gold-plated: $275.00, while supplies last.
New Stofer-Geib Mouthpiece – same mouthpiece dimensions, now hand-buffed in my shop, with improved locally-sourced engraving, personalized upon request, with zippered carrying pouch – Silver-plated: $250.00  Nickel-plated: $250.00  Gold-plated:  $300.00
Call Lee at (563) 321-0642 to place your order.
Schlipf Mutes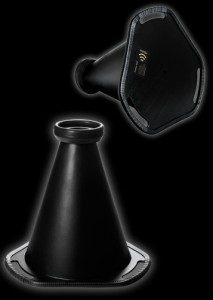 Lee Stofer Music, Inc., is now the North American source for Schlipf Practice Mutes for tuba. Accurate fit is of the utmost importance in making a practice mute really work with a given tuba, and unlike any other maker, Johann Schlipfinger makes his tuba practice mute in 17 different sizes, so that there is a mute that will fit your tuba. Another problem with practice mutes has been size, and transporting them. The Schlipf Practice Mute is designed to properly fit your tuba when the top of the mute is less than 1/2″ above the bell rim, so the mute can be left in the bell of the instrument in the hard case or gig bag, and will actually provide protection for the bell in transit, as well as making it more convenient to carry. From top-to-bottom, this is the most intelligently-designed practice mute I've ever seen. The real muting capabilities, combined with the intonation and response offered by this mute is why an increasing number of professional and serious amateur players are turning to the Schlipf mute. If you live in an apartment, or ever need to practice in a hotel, or warm-up backstage, this mute is for you!
Price each (including shipping): $300.00  Call Lee at (563) 321-0642 to place your order.
NOTE: Other Schlipf products are available by order. Please e-mail or call to check on the availability of other Schlipf Products.
Humes & Berg Products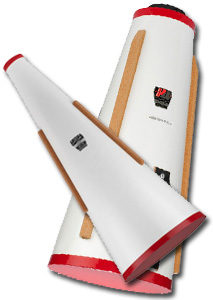 I have been a Humes & Berg dealer for over 10 years now, and am impressed by the friendly, professional service I receive from America's first and foremost mute maker. From tuba and euphonium mutes to economical Tuxedo bags, Galaxy cases, stands and stand lights, and anything else they make, if I do not already have it in stock I can readily get it for you, and offer these products at very reasonable prices.
Call Lee at (563) 321-0642 to place your order.
Cronkhite Gig Bags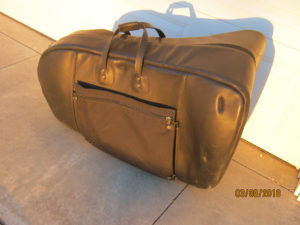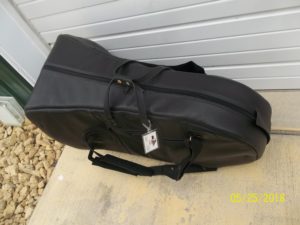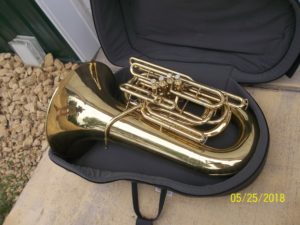 Cronkhite gig bags are considered to be some of the highest quality gig bags produced today. There are more than 70 patterns for tuba gig bags. These bags are available in leather as well as cordura. There are a variety of colors available in both materials. These bags are now produced by Torpedo Bags of Minneapolis, MN. Torpedo Bags has not only maintained the standard set by Glenn Cronkhite, but they have exceeded the quality standards. These bags now come with a protective zippered pouch inside the original side pouch of the bag. These bags are priced based on which material is selected and the size of the bag.
Euphonium –                                Cordura – $297             Leather – $447
Euphonium Miraphone 5050 – Cordura – $297            Leather – $447
Small Tuba –                                 Cordura – $471             Leather – $816
Medium Tuba –                            Cordura – $489             Leather – $840
Large Tuba –                                Cordura – $504              Leather – $867
Extra Large –                               Cordura – $537              Leather – $909
Please contact us about bags for other instruments!
Call Lee at (563) 321-0642 to place your order.